Nyesom Wike, the Minister of the Federal Capital Territory (FCT), has promised not to give up on Rivers State Governor Siminalayi Fubara in their continuing power struggle.
Recall that the Rivers State House of Assembly is impeaching Fubara, who fell out with Wike, his predecessor.
Impeachment proceedings against the governor had been started by several House members and Wike's supporter, Speaker of the Assembly Martin Amaewhule.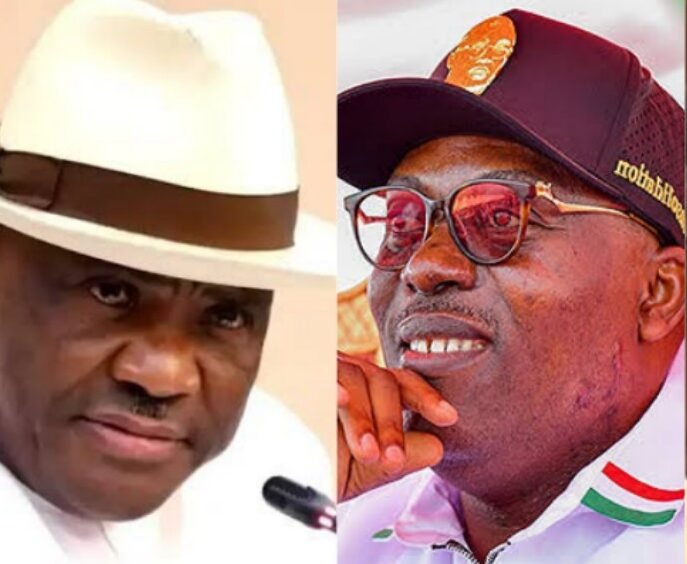 The Majority Leader of the House, Ehie Edison, who is thought to be a loyalist of Fubara, had been suspended by Wike's friends.
Speaking on Tuesday during a meeting regarding the situation in Abuja between the National Working Committee (NWC) of the party and the governors elected on the Peoples Democratic Party (PDP) platform, Wike emphasized that the struggle would go on even if the sky fell.
"You know I will not agree," declared Wike. If heaven is going to descend, let it do so so that everyone can rest.
"Those who know me well enough know that I will never tolerate threats. You know I won't concur. If heaven is going to descend, let it do so so that everyone can rest.
"Let us do this correctly. That's politics, he added; they ought to bring in N20 billion a month. However, no one mentioned this during my fight. Feel free to accuse me.
This is happening in spite of rumors that the problem has been addressed by President Bola Tinubu.
Party supporters have continued to hold protests in the state's capital city of Port-Harcourt, which has resulted in pandemonium due to the impending impeachment.
---
Click "HERE" to join our WhatsApp group and receive News updates directly on your WhatsApp!
---
Copyright Warning!
This Content should NOT BE COPIED (word for word), either in whole or in part (TITLE) without due permission or acknowledgment of OHAFIATV News.
---
Disclaimer
Comments expressed here do not reflect the opinions of OHAFIATV News or any employee thereof. Also, every opinion expressed in any article is strictly that of the author(s), except where otherwise stated.
---