It is unavoidably obvious now that the legally married wife of James Ikechukwu Esomugha is not ready to give up on her resolve to seek him out and get a divorce since their marriage is not working out, (or has been abandoned by Jim Iyke as she always prefers to say).
Recall that earlier in 2023, the issue took center stage in cyberspace and was widely reported by many online tabloids. She further proceeded to provide a certificate to prove her claims, threatening to end at nothing until the legendary actor surfaces to do the needful, which is a formal divorce to allow her to move on with her life.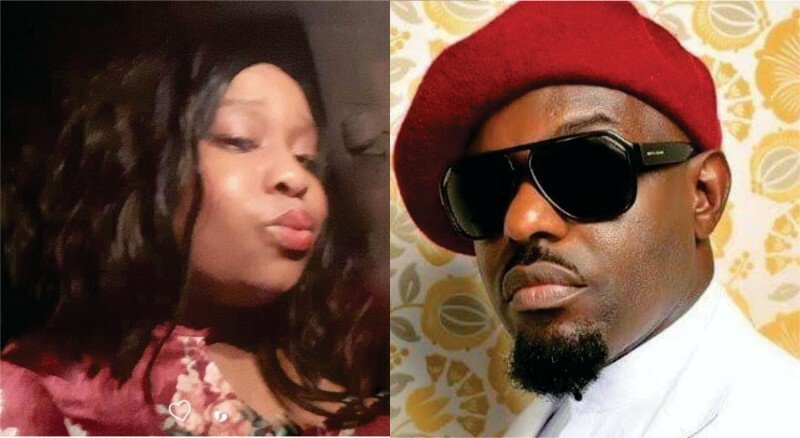 The US Citizen with Social Media details as; Laydiiee Bird, Age:29, Birth Place: Birmingham, Alabama, Alma Mater: Brenau University, Occupation: Entrepreneur/Medical Student Business: CTT Vending Machines, LLC, is determined to get a divorce to end a perennial lockdown from a failing marriage.
According to a written interview she made available to OHAFIATV News, the embittered wife said:
"I am aware of his co-parenting of his first son with a European woman. He told his first son's mother that there were no co-parenting issues and the mother was trying to keep him from seeing his son. I encouraged him to visit his son in Europe which he last did in May of 2018", she said.
Where did they meet: Norcross, Georgia 2016
"I was Unaware of his Nollywood career because he told me he was an entrepreneur and he waited until after we were married before he explained he was known as a Nigerian actor. We lived together in a townhome in Atlanta, Georgia before relocating to an apartment in Atlanta, Georgia.
"Jim and I had plans to start a family but he was never around. In February 2018 he went to Paris, France to welcome a son with an unidentified African woman living in France. I didn't find out until March of 2019 via social media.
"It left me devastated, but he reassured me he wanted to continue our marriage and was forgiven. In August 2021 I found out another son was born outside of marriage by an unidentified African woman in Africa. I was wounded by the News and asked for a divorce. Jim has abandoned me ever since.
"He threatened me and tried to frame me by saying he had a criminal investigation against me. He lied to everyone saying he wasn't married to me when public records and video footage were available at Dekalb County Courthouse in Decatur, Georgia".
Quoting the actor – Told me, "You should kill yourself. No one will believe you are my wife nor will they believe the true identity of my poor economic baby mamas!"
"Bitch, if I told you about yourself you would end your life." "I used you like a washed-up towel."
"At some point, he didn't have an address because he was running from me. Refuses to get in contact even while visiting the U.S. and staying with women in Miami, Florida, Houston, Texas, Kansas City, Kansas, Tysons Corner, Virginia, Rockville, Maryland, D.C., Providence, Rhode Island, Des Moines, Iowa, Carson City, California, Chicago, Illinois, Philadelphia, Pennsylvania, Little Rock, Arkansas, etc.
"On many occasions, Jim Iyke told the police that he would call me to settle our divorce matters, but he never does. Instead, he hired Anthony Cannon aka Officer Floyd with the Harris County Police Department with an unidentified badge and case number threatening me that Jim has a criminal case against me.
"His Family and friends act as if they don't know me but are well aware of who I am because he asked them to play confused. He is a manipulator and liar. Everyone close to him who is on his social media including family, friends, and colleagues knows exactly what he is doing. He kept me away from family and only allowed a few close friends to meet me" she said.
Speaking further in the detailed interview, Carllie said: "He hasn't seen any of his three children in years. Only tells their mothers to take photos and send them to him. He is not presently aware of the whereabouts of his third son.
"Jim keeps the mother of his child in France and Africa a secret so they can't expose his abandonment and abuse. He told lies to his mother about his first son Dana. Neither of the three children have met each other. They have not met his sister Joy, her Caucasian husband in London, her son, or her daughter. He will threaten anyone with a court order for exposing the truth.
"He Constantly changes numbers and will not come to an amicable agreement for divorce. I will have a warrant for his arrest if he continues to ignore being served papers and coming to court. Sneaking in and out of the United States by wearing shades and going to estranged areas at the airport, Using multiple women to stay at their residence, and for personal motives will not help him hide from the law forever.
"Instagram, Facebook, and TikTok are how he stays afloat in his career. He mutes, blocks, and deletes comments of others calling him out on his selfishness and bad behavior. Jim Goes about his life not caring about me his wife or the single mothers of his children. Only concerned with his image, career, and money. Keeps quiet to distract from the truth. He sends mailed letters to the second son's mother in France from different P.O. Boxes. All mothers have expressed being wounded by him", she detailed.
She concluded by saying that she has perfected her plans to bring the fight to Jim Iyke in Nigeria in 2024 since he doesn't want them to settle amicably and go their separate ways.
---
Click "HERE" to join our WhatsApp group and receive News updates directly on your WhatsApp!
---
Copyright Warning!
This Content should NOT BE COPIED (word for word), either in whole or in part (TITLE) without due permission or acknowledgment of OHAFIATV News.
---
Disclaimer
Comments expressed here do not reflect the opinions of OHAFIATV News or any employee thereof. Also, every opinion expressed in any article is strictly that of the author(s), except where otherwise stated.
---