In an effort to spread the gospel of Jesus Christ throughout Ikwuano Local Government Area, Pastor Mike Nwaka, the founder and General overseer of Loyal Soldiers Of Christ Church, has advised members, particularly workers, to make soul winning a daily business.
Pastor Nwaka exhorted the Associate Pastors, workers, and indeed every member of the church to embrace the Ministry of soul winning, stating it is a duty for every member of the body of Christ, this was his remark on Sunday, during the official inauguration of the Ndoro branch of the rapidly expanding church.
The representative for the Ikwuano Umuahia State Constituency, Hon. (Engr.) Boniface Isienyi, Pst. Ifeanyi Peter, Catechist Ambrose Jona, Chief Charles Ugboaja, Barr. Chinatu Onwuchekwa and Deacon Kennedy Nwaka were among those present for the historic ceremony, which also saw the ordination of new employees into various church offices.
In an exclusive interview with Famousreporters.com, the clergyman who insisted that the Bible must be preached to all living things in the Council made clear that his top priority was to elevate the name of God in the nation through the Ministry while guaranteeing the undeniable manifestation of God's miracles.
"Everyone must get to work right away. They now have my commission and my orders to go out and win souls. In reality, the Ikwuano region will be aware that a church like Loyal Soldiers exists there. We're coming to give them the finest", he said.
Additionally, Pastor Nwaka prayed for the newly appointed Associate Pastors and other servants who were given the responsibility of leading several church departments to lead with grace, love, peace, wisdom, and unity.
"God bless each and every one of you here. You'll have good days all through the day and night". He predicted, "Go and rule".
When asked what approach the church would take in the extensive soul-winning effort, he responded that there was little doubt that the manifestation of God's message through signs and wonders would act as a catalyst to bring souls to Christ as well as to the church.
He boasted in the power of the Holy Spirit at work in him while exuding complete optimism, repeating that the Church would spread quickly throughout the Council and beyond.
We'll start doing one-on-one evangelism, going from house to house, praying for them and freeing them from every kind of slavery. Since the majority of people here don't attend church, I think that if you pray for them and by the power of God, they will begin attending services and serving God in truth and in spirit.
"By the end of the next two years, I want our church to be in every home in the Ikwuano Local Government Area. Because they will observe a distinct method of honoring God, everyone will be attending worship at Loyal Soldiers Of Christ Church", he assured.
The guest speaker, Evang. Shepherd Ifeanyi, challenged the audience to create spiritual capacity in his sermon, adding, "When you have anticipation, that's when it comes, and in building your spiritual capacity, learn social capacity.
In addition to stating that "certain positions require certain qualifications," he emphasized that "capacity building" required time and consistency. Changing from one type of business to another will have no impact.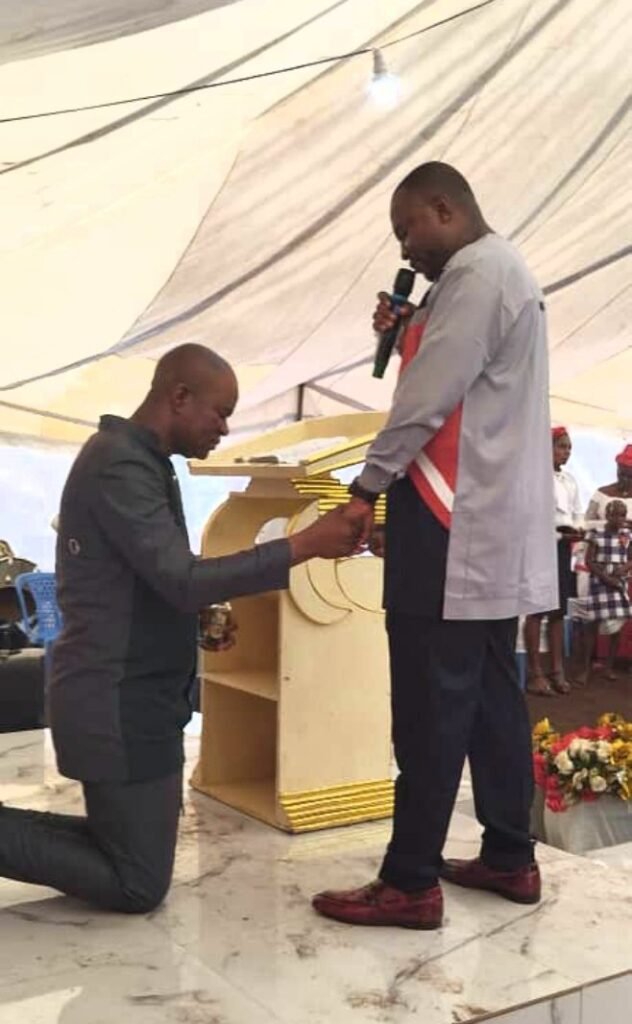 According to Evang. Ifeanyi, whose main verse was from Phil. 3:12–14, capacity is the power required to carry out a desire.
He went on to say that salvation was a gift that, in his opinion, could only be obtained via good deeds, adding that "Christ didn't just give us salvation alone.
"Christ provided for our redemption even before we asked. Because Christ could descend from the cross, it was His zeal to provide redemption to humanity rather than the nail that kept him there. Jesus cannot be held back on the cross by a regular nail because God's word states that "I know the thought I have for you, thought of good and not evil; to give you an expected end," Christ underwent the suffering both on the route to the cross and while he was there.
He had already praised the Nwakas for the love, peace, and harmony that existed among them and asked everyone to emulate it.
Evang. (Comrd.) Osinachi Nwaka, the President of the New Era Foundation (NEF) and the General Overseer's older brother, addressed the congregation and prayed for grace, mercy, and favor for them. He also led the congregation in a brief time of praise. He encouraged his younger brother to embrace God and make Him His rock by confirming the words of God given through the G. O.
Before I was asked to read this passage from the Bible on this altar, God told me to tell you that he would establish his church on this rock and that the gates of hell would not be able to stop it. I'm not telling you lies. He also gave me the command to show you kindness, grace, and favor.
The well-known benefactor asserted, quoting Matthew 16:18, that "eyes have not seen, nor have ears heard what God has prepared for you. God rewards those who seek him diligently, and His word also states that mothers will be rewarded.
"I release that same grace into you and your Ministry because it has sustained me far more than it has since I was a baby.
Evang. Ossy recalled how God Almighty instructed him to carry out a certain assignment, which he acknowledged with joy had given him his current golden years.
Hear him: "There was a time in Ikwuano when things were very difficult for me. God gave me a scripture with the instruction to read it seven times every morning, noon, and night while putting the struggle in His hands. According to the Bible, "I shall not fear, though I walk through the valley of the shadow of death.
"The God who has put this scripture in your mind, make Him your rock and no power can subdue you, rather you shall subdue Ikwuano; your voice shall be heard," the speaker continued.
This Altar shall speak for you in the morning, noon, and evening; any eye that stares at you with wicked thoughts shall go blind".
Pastor Ifeanyi Peter warned the crowd that every believer must have a close relationship with God. He said that regardless of wealth, those who don't have a relationship with God will burn in hell.
As he continued, he recounted how God had previously used Pastor Nwaka to revive dead bodies and proclaimed the ground a fruitful, healing, and solution site where yokes and bondages would be broken.
Insisting that "I have several times told you to stop inviting people to Church, they will come by themselves and those are the real members," he encouraged Pastor to stop inviting people to church.
"I declare this location to be a place of healing and reconciliation, where God's blessings will flow continuously for all time. It will be a good place to expand everything.
"Anyone who blesses you, will be blessed," he said to Pastor Mike, "anyone who curses you, shall be cursed; anyone who calls you Daddy, shall be blessed."
---
Click "HERE" to join our WhatsApp group and receive News updates directly on your WhatsApp!
---
Copyright Warning!
This Content should NOT BE COPIED (word for word), either in whole or in part (TITLE) without due permission or acknowledgment of OHAFIATV News.
---
Disclaimer
Comments expressed here do not reflect the opinions of OHAFIATV News or any employee thereof. Also, every opinion expressed in any article is strictly that of the author(s), except where otherwise stated.
---