The Wave of Contention
From the hearts of Obadore, somewhere around Ojo area of Igando. I really don't know those areas so well. She acquired a property where she called home.
And some times right in the middle of a service, she heard clearly. God told her to feed the helpless children with the breasts of human kindness. 1998, was the year she summoned the courage and along came the first baby who suck from her the milk of human kindness.
She continued until she came to Ajah. Revd Lt Col D. C. Ogo (RTD) gathered as many homeless, helpless and orphaned children under the roof and gave them shelter, secure scholarships for them and gave them hope of being catered for. It was this heart, that drew us close to her. I joined Revd Ogo in the orphanage and served with all my heart within the period I had the privilege to serve.
She had no other ambition but to serve the children and administer whatever contribution people gave for the children with the fear of God. She often said, 'These are God's children. You must be careful of what you do to them because God will fight for them'. She also often added, 'this is God's money meant for the children. We must be careful of how we spend it.' Those words never left my mind. I prefer to spend to assist the home rather than take from the home unlawfully.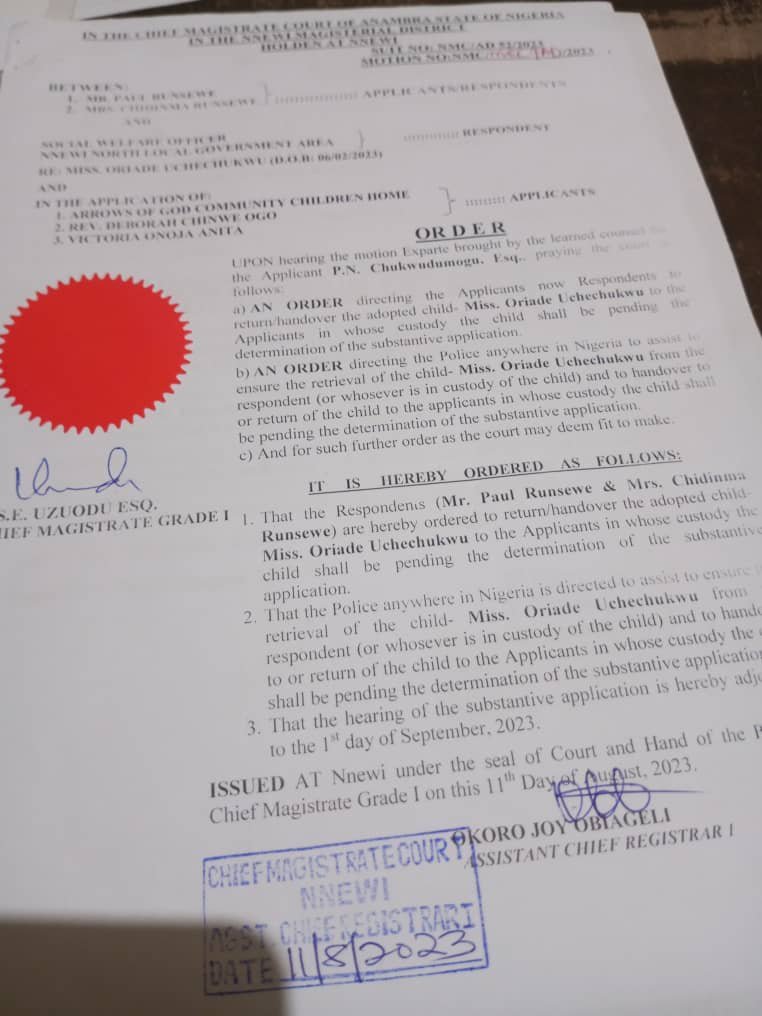 Revd D. C. Ogo has by God's grace grown the home in leaps and bounds. Now she is old and weak, some people have with bad faith, launched an attack on this 83 year old woman. In the world of artificial intelligence, where voices can be cloned. I will not probe any further because I don't have to appear as an arbiter but allow the Almighty defend his cause over the home, Arrows of God Orphanage.
I will be forever grateful to Arrows of God Orphanage and to Revd Lt Col D C Ogo RTD. We did learnt a lot from you and we pray for you in the difficult moment.
Please be strong and don't give in. We love you. You are our HERO and you will forever be in our hearts. I shall not rest until all this is laid to rest. Your labor of 25 years will not be drowned in the ocean of misinformed propaganda.
Mama, I will forever be PROUD of you. They speak and attack you from outside but we know who you are and what you can do from inside.
Proudly: Olajide Adelani Lawal
Barrister at Law
---
Click "HERE" to join our WhatsApp group and receive News updates directly on your WhatsApp!
---
Copyright Warning!
This Content should NOT BE COPIED (word for word), either in whole or in part (TITLE) without due permission or acknowledgment of OHAFIATV News.
---
Disclaimer
Comments expressed here do not reflect the opinions of OHAFIATV News or any employee thereof. Also, every opinion expressed in any article is strictly that of the author(s), except where otherwise stated.
---