Samuel Uba Okorie, Ph.D, is an embodiment of moral character ahead of the March 18th, 2023 poll
What will be Uba's selling point?". My categorical answer to this very thoughtful and important question is that his moral character is his selling point.
The fundamental and overriding basis for voting for any of the contestants for the position of Representative of ABSHA Arochukwu State Constituency should be leadership values. Unfortunately, we do not have any generally known, accepted, and institutionalised—covenanting—leadership values.
The only known value that the founding fathers of our nation and democracy after colonisation practiced, which was popularised by Mr. Ukpabi Asika, was Onye ubeya ru ya raa (Igbo). This means, contextually, "anyone elected or appointed into any political position should loot as much public finance as he could". This value has endured as the institutionalised political value because all governments after the first government lacked moral character to correct the criminality.
A person's values are best assessed by studying the character of the person over several decades of his professional, social and interpersonal activities, and not by relying on the claims that he makes about his character or the character that he exhibits one year or several weeks to an election.
The value that best befits our next Representative—indeed all future office-seekers—is moral character and not selfishness, financial greed and insatiability, onye ubeya ru ya raa, lust for power, overlordship or autocracy, ethnicity, or religious bigotry.
Moral Character is Everything! Moral character was institutionalised, although not written, and evident in personal, family, social, and institutional activities when Nigeria was the country of our pride and the envy of all other nations. Moral character was everything then! The best expression of moral character was good family name. Particular evidence of moral character are iwa om'oluwabi (Yoruba), ezigbo omume (Igbo), and halin kirki (Hausa), to use the three major languages.
Members of families were the first to condemn, correct and, sometimes, punish a person for moral failing or corruption, to preserve their family name. But now, family members promote, cover up or defend moral failings or corruption. This is why our economics, democracy, governance, legislation, justice administration, international relations, marriages and children upbringing have been failing. It is why the naira which was N1: $2. is now N750:$1!
Dr. Samuel Okorie values his moral character above any amount of money and the office he is vying for. He will win because moral character is worth more than the sum of money both of them have. Moral character is everything! Another reason Dr. Samuel will win is that he relies on prayers and God grants the prayers of a man of moral character. Some people have argued that "education is absolutely necessary for good governance" and that "President Buhari's lack of education is why he has failed". But Dr. Samuel Uba Okorie is educated to the highest level (Ph.D).
No other evidence presented here can equal it in significance or importance. Because the members of Accord Party who chose him, although a new comer to the party, are very distinguished, puts him on the same moral or virtue pedestal as Mr. George Washington, the first president of the USA.
Another evidence that Dr. Samuel Uba surpasses other candidates in moral character assessment is that while he was the Director of Finance in one blue-chip company, he did not take advantage of the position to privatise any economic or financial interest to himself.
I have not seen any report that Dr. Samuel acquired his wealth by looting company funds. This fact certifies him worthy of the Seat of Representative in the new Arochukwu. He is a true democrat and a technocrat. He has never worked for and with the government. He is a Team Player, a member of the Assemblies of God Church, who has studied and showed himself approved in his moral character and by all standards. He will not defile himself with the King's meat. He will not sell his birthright for a morsel of bread. He is not a stooge, he is not a pushover. He is a goal-getter. He is a fighter. He is an Abam Man, a Warrior, but a well-educated and christianized warrior.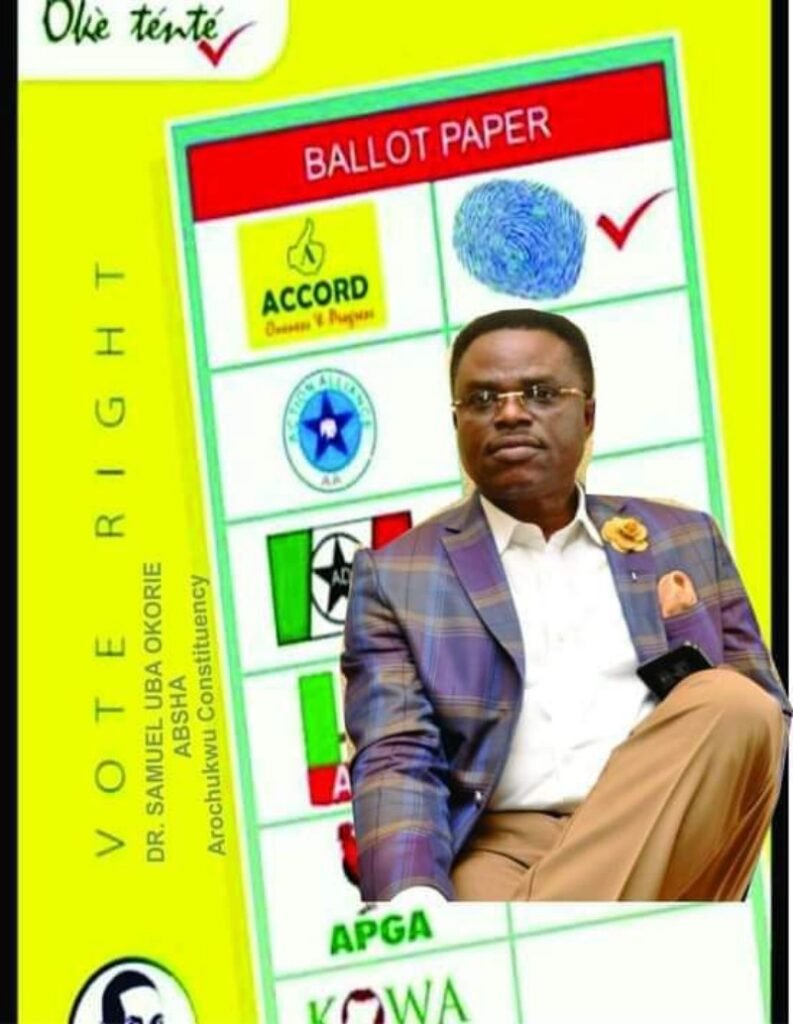 ---
Click "HERE" to join our WhatsApp group and receive News updates directly on your WhatsApp!
---
Copyright Warning!
This Content should NOT BE COPIED (word for word), either in whole or in part (TITLE) without due permission or acknowledgment of OHAFIATV News.
---
Disclaimer
Comments expressed here do not reflect the opinions of OHAFIATV News or any employee thereof. Also, every opinion expressed in any article is strictly that of the author(s), except where otherwise stated.
---