Them versus Us
THEM (Abia PDP Government; PDP Governorship Candidate and Associated Governorship Candidates)
! Filthy city mindset
! Headpan Technology
! Domino Pizza, Chicken Republic, Cinema
! Brutish information crew: more of attack dogs; ogbasara unu?
! Give 'em N500 a.k.a "OVI Currency"
! Accountability zero. Corruption high.
! Brick and mortar government in 21st century.
! Destroyed our educational institutions
! Youths, Pensioners, Workers hopeless
! Ranked worst in all governance indices: Worst governed Subnational in the third worst governed nation in the world (Last Chandler Index report on governance).
US (incoming NNPP Government in Abia State)
Vision: Fastest growing Subnational in Africa by 2031.
Digitally literate Abia Citizens; innovative Youths
Thinking Smart City, Food basket & Smart Agric; enhance Biotechnology
Abia as a 'Technology & Learning Hub' for Africa.
Build best in class educational institutions Kindergarten to University
Digital Economy and Digital Society: Transformational indeed!
Think double digit GDP growth; push IGR to 4th in Nigeria
Promote PPP for infrastructure development
Mission: We must produce 15% of what we need in Abia State by 2027; Abia produces for Africa
Ariaria: city that never sleeps: 24/7, 365 days producing for the world
We present superior argument, data, interacting, respecting
Teach our people to fish instead of giving them fish.
We will build our digital development capacity; 95% Digital Literacy Coverage by 2027
Zero tolerance for Corruption:
Accountability verifiable (will use Technology to reduce, if not eliminate corruption)
Run Abia State as a business; Ease of doing Biz high; Health, Safety, Security, Environment, Quality HSSEQ: No.1 in Nigeria
LGAs receive their allocations but must account for their use
Promote a forward looking State legislature, making laws in tune with the world.
Promote a Judiciary that serves Abians Justice in every sense of the word making sure every Abian receives what s/he deserves.
Roads, bridges, potable water, hospitals, built as of the people's right
While they wait for 100 days in office to give you their first report, we will apply the diligence our oil industry background taught us to give you 1461 daily governance reports in the 4 years we are in charge of the Abia ship, starting day 1, accessible online. Dr Ukpai will sign them off daily.
Make Abians happy for once using governance. Government that shows uncommon love to Abians and ensures that it is God's own State indeed!
Abia Voters : On March 11, vote NNPP where you see drawn a Basket filled with Fresh Fruits . Vote Dr Ukpai for Governor Abia State. A wrong choice means you loose matching happily forward as NNPP offers above and chose another 8 years of suffering.
God forbid it!
Clearly, in NNPP Governorship Candidate, Abians have an excellent alternative to PDP, APC, APGA, LP, APP, YPP, ADC, and other Governorship Candidates.
If you desire for Abia State to catch up with neighbouring States; if you are looking for a bright future of our Youths, please SHARE this article to other Abians so they are well informed.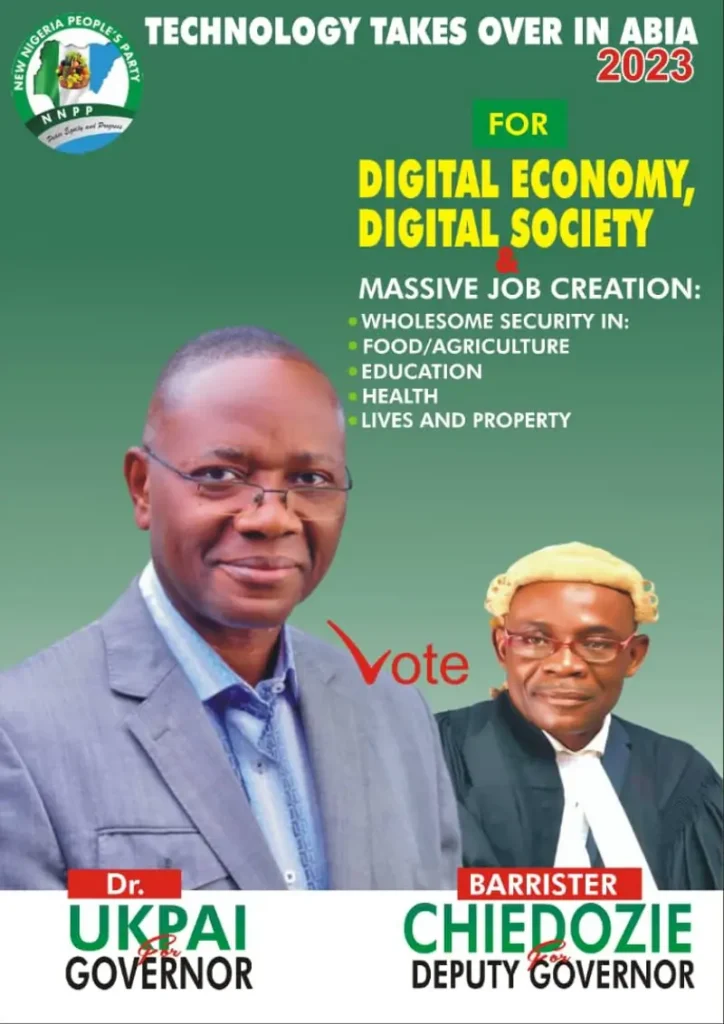 ---
Click "HERE" to join our WhatsApp group and receive News updates directly on your WhatsApp!
---
Copyright Warning!
This Content should NOT BE COPIED (word for word), either in whole or in part (TITLE) without due permission or acknowledgment of OHAFIATV News.
---
Disclaimer
Comments expressed here do not reflect the opinions of OHAFIATV News or any employee thereof. Also, every opinion expressed in any article is strictly that of the author(s), except where otherwise stated.
---