PRESS RELEASE
Ohanaeze Ndigbo, the apex Igbo socio-cultural organization, strongly denounces Chief Edwin Clark's recent vituperative rhetoric and exclusionary stance towards Abia, Imo, and Ondo States in the Niger Delta Development Commission (NDDC). We view his remarks as an affront to national cohesion, unity, and a promotion of ethnic bigotry.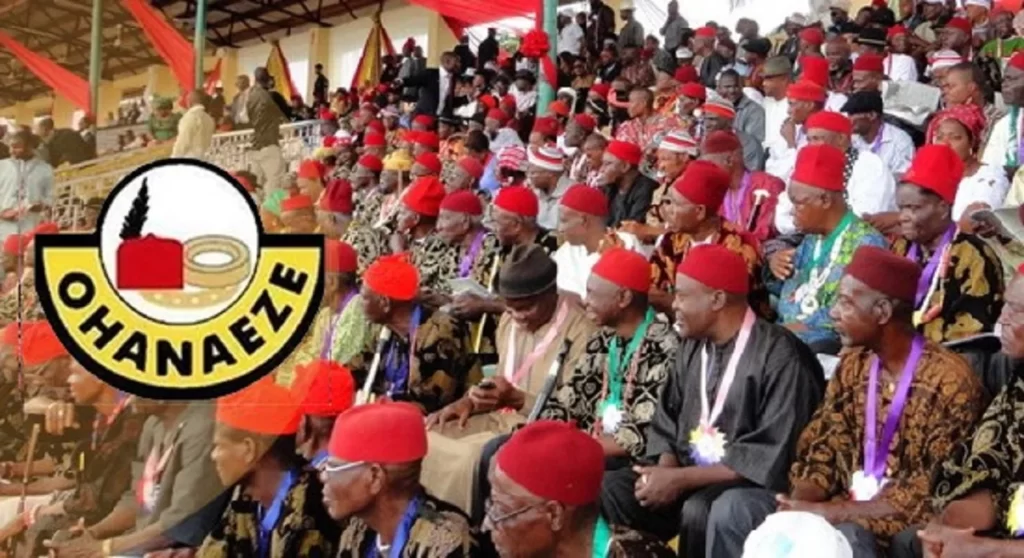 Chief Clark's proposal to expel Abia, Imo, and Ondo States from the NDDC based on their geographical location and quantity of oil deposits is not only misguided but also reeks of parochialism. Such exclusionary suggestions are detrimental to the progress and unity of our great nation. We call on President Bola Ahmed Tinubu to disregard Clark's unhealthy vituperation and sweep it into the dustbin of history where it belongs.
It is disheartening that Chief Clark, a prominent leader of the Pan Niger Delta Forum (PANDEF), would resort to such parochial barbarism and satanic rhetoric. Instead of promoting unity and inclusivity, he chooses to foster division and animosity among Nigerians. His views do not reflect the position of the Niger Delta region or the values of a united Nigeria.
Ohanaeze Ndigbo expected Chief Clark to advocate for the gazetting of former President Buhari's recognition of the Old Anambra River Basins as oil-producing states. This recognition includes Anambra, Enugu, and Kogi States, which should be rightfully incorporated into the NDDC. We believe that such a move would foster economic development and create opportunities for all Nigerians.
Furthermore, we condemn in the strongest terms Chief Clark's disregard for the economic hardships caused by the removal of fuel subsidies. His exclusionary stance and divisive rhetoric only serve to exacerbate the challenges faced by our nation. It is disappointing to see a leader of Chief Clark's stature express personal views that do not reflect the collective aspirations of the Niger Delta region.
Ohanaeze Ndigbo reiterates its firm commitment to national unity, cohesion, and the promotion of a Nigeria where every citizen is accorded equal rights and opportunities. We call on all well-meaning Nigerians to reject and condemn divisive rhetoric that undermines our national fabric.
We urge President Bola Ahmed Tinubu and other leaders to rise above such divisive discourse and work towards fostering unity, inclusivity, and economic development for all Nigerians. Together, we can build a stronger and more prosperous nation, where every region and ethnic group contributes to the well-being of our beloved country.
Signed,
Mazi Okechukwu Isiguzoro
Secretary-General
Ohanaeze Ndigbo
---
Click "HERE" to join our WhatsApp group and receive News updates directly on your WhatsApp!
---
Copyright Warning!
This Content should NOT BE COPIED (word for word), either in whole or in part (TITLE) without due permission or acknowledgment of OHAFIATV News.
---
Disclaimer
Comments expressed here do not reflect the opinions of OHAFIATV News or any employee thereof. Also, every opinion expressed in any article is strictly that of the author(s), except where otherwise stated.
---