In Owerri, Imo State, a reckless driver is said to have k!llled a family of five and their housekeeper.
On Sunday, August 5, 2023, the incident took place at the Umudibia neighborhood near Maternity Junction and the Federal Polytechnic Nekede in Owerri. 
Despite having a disability, the patriarch of the family, Arthur, also known as Agwu Oti Aka, earned a silver medal in para-badminton. He was scheduled to represent Nigeria in a disability badminton competition in the US on August 14, 2023.
When the disaster happened, Arthur was riding a motorcycle with some of his kids while his wife, housekeeper, and other kids were traveling on two other motorcycles.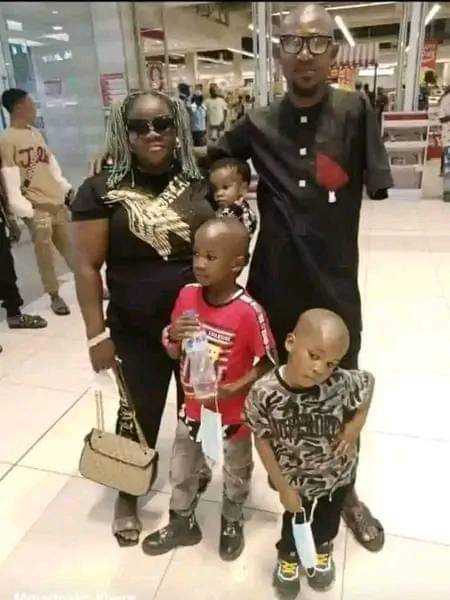 Unlike his house help and two kids, who died later at an Owerri hospital, Arthur, his wife, and their 14-month-old infant died right away. 
Prince Mekoyor, a neighbor of the murdered family, verified the unfortunate incident on Wednesday, August 9. He said the drunk motorist drove off his line and struck the family. 
"Arthur, as I referred to the departed with affection, and I shared a home in Weathral until this past Sunday, when he and his family died. He only has one hand, and on August 14, 2023, he was scheduled to compete in a disabled badminton tournament in the USA. At the Polynek School Junction, he has a restaurant, the man said. 
Mekoyor claims that the driver of the RX 3:30 Lexus SUV was not the owner of the vehicle and had borrowed the vehicle from Holy Family Junction Poly Nekede in order to withdraw cash for a drink buy.
According to what he remembered, the vehicle drove off to an ATM at the Master's Energy petrol station on Aba Road in Owerri. The motorist struck Arthur's family square in the face when turning around at Maternity Junction Polynek after losing control of the steering. 
"At Maternity Junction at Umuokoto on the Polynek-Ihiagwa route, he was returning at a fast rate of speed when he lost steering control.
©DetectUniverse
---
Click "HERE" to join our WhatsApp group and receive News updates directly on your WhatsApp!
---
Copyright Warning!
This Content should NOT BE COPIED (word for word), either in whole or in part (TITLE) without due permission or acknowledgment of OHAFIATV News.
---
Disclaimer
Comments expressed here do not reflect the opinions of OHAFIATV News or any employee thereof. Also, every opinion expressed in any article is strictly that of the author(s), except where otherwise stated.
---