We've made some progress already. I was proud to help lead the fight that led to the most sweeping ethics reform in my church.
But Arochukwu has a long way to go. And it won't be easy. That's why we'll have to set priorities. We'll have to make hard choices. And although Government will play a crucial role in bringing about the changes we need, more money and programs alone will not get us where we need to go. Each of us, in our own lives, will have to accept responsibility – for instilling an ethic of achievement in our children, for adapting to a more competitive economy, for strengthening our communities, and for sharing some measure of sacrifice. So let us begin. Let us begin this hard work together. Let us transform this Constituency, by first voting me in.
Let us be the generation that reshapes our economy to compete in the digital age. Let's set high standards for our schools and give them the resources they need to succeed. Let's recruit a new army of teachers, and give them better pay and more support in exchange for more accountability. Let's make college more affordable, and let's invest in scientific research, and let's lay down broadband lines through the heart of inner cities and rural towns all across Nigeria.
And as our economy changes, let's be the generation that ensures our nation's workers are sharing in our prosperity.
Let's protect the hard-earned benefits their companies have promised. Let's make it possible for hardworking Arochukwu to save for retirement. And let's allow our unions and their organizers to lift up this country's middle class again.
Let's be the generation that ends poverty in Arochukwu. Every single person willing to work should be able to get job training that leads to a job, and earn a living wage that can pay the bills, and afford child care so their kids have a safe place to go when they work. Let's do this.
Let's be the generation that finally tackles our health care crisis. We can control costs by focusing on prevention, by providing better treatment to the chronically ill, and using technology to cut the bureaucracy. Let's be the generation that says right here, right now, that we will have universal health care in Arochukwu by the end of the next president's first term.
Let's be the generation that finally frees Arochukwu Constituency from the tyranny of oil. We can harness homegrown, alternative fuels like ethanol and spur the production of more fuel-efficient cars. We can set up a system for capping greenhouse gases. We can turn this crisis of global warming into a moment of opportunity for innovation, and job creation, and an incentive for businesses that will serve as a model for the world.
Let's be the generation that makes future generations proud of what we did here.
Most of all, let's be the generation that never forgets what happened in the March election. Politics doesn't have to divide us on this anymore – we can work together to keep our constituency safe. We can improve our intelligence capabilities. But let us also understand that ultimate victory against our enemies will come only by rebuilding our alliances and exporting those ideals that bring hope and opportunity to millions around the globe.
With your Vote we can rebuild the new Arochukwu we all desire.
Vote right! Vote Dr. Samuel Uba Okorie as your Representative for Arochukwu State Constituency!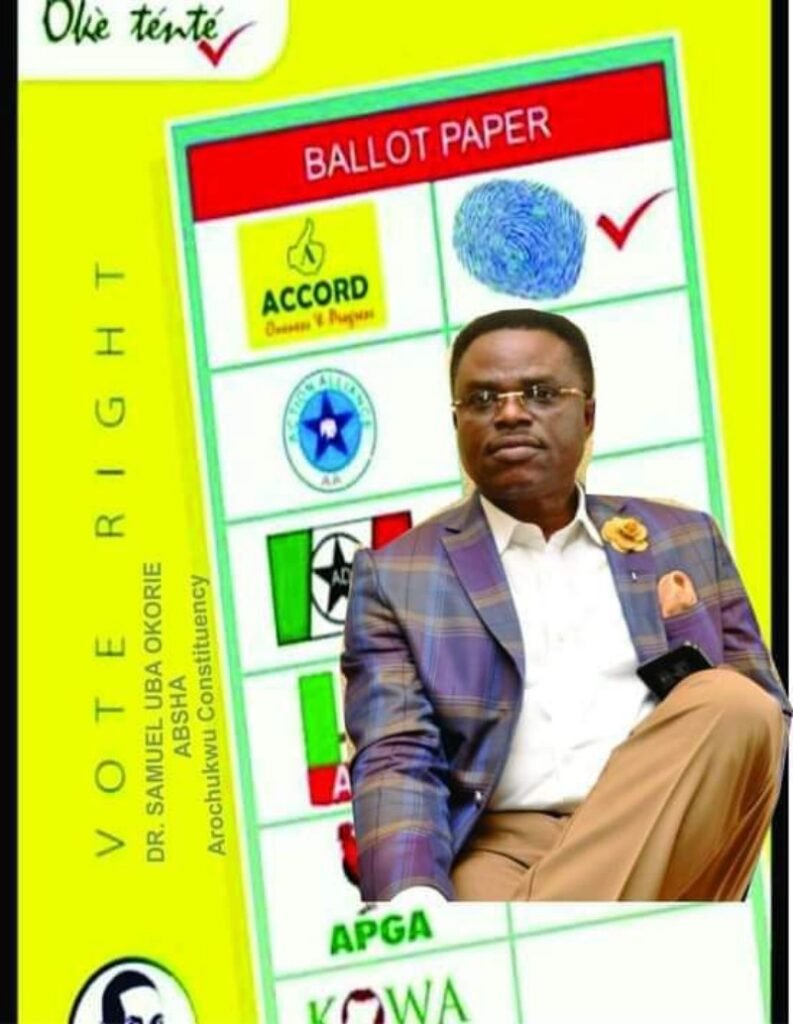 ---
Click "HERE" to join our WhatsApp group and receive News updates directly on your WhatsApp!
---
Copyright Warning!
This Content should NOT BE COPIED (word for word), either in whole or in part (TITLE) without due permission or acknowledgment of OHAFIATV News.
---
Disclaimer
Comments expressed here do not reflect the opinions of OHAFIATV News or any employee thereof. Also, every opinion expressed in any article is strictly that of the author(s), except where otherwise stated.
---