The incessant molestation of the Ohafia Clan by the military due to activities of criminal elements that has found themselves into the middle of the once peaceful community has taken another dangerous twist as the Local Government Chairman, Dr. Okoroafor Ukiwe shocked the people as they woke up on Saturday, 26th November 2022, to a strange announcement banning every existing vigilante among other orders.
Part of the announcement read: "The Chairman of Ohafia Local Government Area, Dr. Okorafor Ukiwe has directed the immediate ban of all vigilante outfits in the local government stressing that anyone found with dangerous weapons at night would be arrested by law enforcement agencies.
"The directive is coming on the heels of the present security situation which has left some communities at loggerheads with the military at14 Brigade Ohafia", the statement read in part.
Following this strange announcement, many concerned citizens have reacted with surprise, wondering whose script the Chairman is playing out, or if he understands the gravity of the announcement.
Below are some of the reactions that OHAFIATV News curled from different social media platforms.
How can you disarm an outfit securing the place? Can any person go to Kano, for example, and ask Hisbah to drop arms? There is more to this but we seem to let go. The last time I raised issues of security in Ohafia, I was asked to "PLS PULL DOWN THE POST SO THAT OTHER NON-STATE ACTORS ON THIS PLATFORM WON'T SHARE SAME ELSEWHERE.." Are we pretending that all is well while the military, in the name of enforcing security, strips us of our guard? This is very unfortunate and where are the Ohafia elites? Where are men and women of goodwill from Ohafia? Very soon the whole LGA will be overrun by the military and what we sided to hear in other places will be child's play – Chibuike
—-
Infantile announcement. As if we are the guilty lot. But the NA is blameworthy because they criminalize all of us. The policy of civilized crime control is that it's better for 9 criminals to escape than to punish one innocent person. But for the Nigerian Army, it's better to criminalize 9 innocent people just to punish one criminal. It's crude and completely irrational. So, an appropriate announcement would have captured the need for the army to be professional in its engagements with us. – Barr Ukpai Ukairo
—
If this was happening in Abiriba where the Chairman comes from will he send out such press release? Whatever the reason our people (the young/aged/women and children) have been going through a lot recently.Nde okwu eru onu ha udo chia ni Kimiko – Kalu Olua
—-
Recently, there were some voice notes circulated on WhatsApp purportedly by an Abiriba Woman who claimed that they were traveling for a Women's Group Event and encountered a strange Road Block around the Abiriba/Igbere Junction, etc and the news of some kidnappers in Abiriba Forests. May I ask if anybody outside the Abiriba Clan heard anything again about that security challenge issue?
Just asking for Ohafia to have a proper perspective on this constant security issues within our Clan.
And is it true that our Ohafia Monarchs were made to sign a hush-hush secret "Treaty" with the NA, contents of which were not allowed to be reviewed by the Ohafia legal Team before execution? – Ukpabi Ojo
—-
I  have a strong feeling there is something sinister about this order. 
I lived in Jos for quite a while, and this whole thing honestly feels like deja vu.
I feel a delegation should meet with the chairman tomorrow to explain his rationale, and probably try to convince him otherwise – Emekanya
—-
Whoever that pressured this so-called local government chairman to make this announcement is an enemy to Ohafia people. 
This is what one gets when citizens are not allowed to choose their leaders freely. For some months now, there have never been a press release on the development on infrastructures in Ohafia local government apart from this. 
He should be careful in his choice of service and words as we all are witnesses to the killer herdsmen going on in different part of the country including nearby Isiukwuato local government and the South Eastern states. – Alum Ottis
—–
Sir why and under what condition would you accept this condition to ban vigilante  in our community. This is very wrong. The JTF in Bornu State are vigilante and have not been banned rather they are working together with the security forces and very useful in fighting the boko haram. Please don't ban them rather increase their capacity to fight criminals,  and like in Bornu State ,let the security forces support them. Kindly rescind that directive Sir. It is not in our collective interest as a people. – Charles Kalu Ula Oke
—–
One of the cardinal obstructions to peace, stability and community security is politicization of security and strategic intelligence. This entire piece by my brother captured the cardinal obstructions to community security and our collective well being. Absolutely unnecessary and functionally very destabilizing. – Umadiuto
—–
The fifth paragraph of this press release reads,
All government offices, banks, motor parks, markets, and business centres should open for businesses on Mondays as anyone enforcing sit-at-home orders in the local government will be arrested by the law enforcement agencies. 
Please and please,
For the sake of our economic development i think the Ohafia improvement union, MBEN and our development union should make a follow up announcement for our people to jettison this sitting  at home mentality for our economic activity to bounce back. 
They should not sit on the fence when matters such as this is being discussed or resolved is not the best.
Our improvement Union, Development Union and MBEN have a part to play. – Am Blessed Today
—-
Ukiwe asking Ohafia Vigilante to surrender their arms is no different from Buhari asking all Nigerians to surrender their arms to all DPO who will, in turn, surrender them to the AIG and keep every community defenseless for Herdsmen to pick and plunder at will.
We are talking about illegal arms in the hands of cultist and UGM and not the Egbe Ntu (Gunpowder guns) we use to hunt animals and defend our community. Guns in the hands of Vigilante should not be termed as illegal because they are setup by the people. Disbanding our vigilante is another grave error. It means that our security will totally be in the hands of foreigners.
I don't know who is advising the Chairman. – Comr Amos Kalu
—–
Ohafia local government receives about or near N200m from federation account plus the local IGR. The is no light in Ohafia, the so-called chairman have not visited the erosion sites ravaging Ohafia people and what efforts has he put in place as security measures. Does he even know the meaning of Vigilantee?
The citizens have been contributing their hard earned money to protect themselves through this volunteered groups Vigilantee security. 
He shouldn't delve into matters that are above him as he didn't even find it necessary to meet with the people to seek their opinion before releasing his so-called ban. 
This is time to do away with incompetent people foisting themselves on us.
—
Because his home town – Abiriba is not facing the same security challenges our people are facing.
I don't understand the ban on the vigilante group.
Is it to pave the way for the Fulani heads men to take over our dear Ohafia or what?
 He should be advised aright please on the adverse event that may follow the ban – Uche Ukairo 2
—-
The Chairman also forgot to order for sale & consumption of cow meat in Ohafia as well as order for free movement of cow & gun wielding herdsmen. This may be the second order. Watch out – Isaackalu
—-
So many crisis has erupted in Ohafia since this chairman took over office two years ago. It's on record that we haven't heard him make much declarations on the problems within Amangwu Ohafia axis and the compensation for those who lost property and loved ones. 
The issue of insecurity in a state is under the purview of the state government in conjunction with the state house of Assembly and State's security council. Did the local government chairman had wide consultations with the state government, Ohafia council of Chiefs, the Ohafia Improvement Union and other  stakeholders before taking the decision? Or, did he take unilateral decision because he's the local government chairman, or because his Abiriba Community is not as endangered as Ohafia is?
Ohafia has come under siege from the herdsmen leading to the ban on consumption of beef. This was the height of the tragedy. I'm not sure  that the chairman knows the gravity of the decision he has taken. Banning our vigilantes by the local government chairman isn't the right decision. The hisbah force is still operating openly in the north, especially in kano state. The Amotekun security outfit is operating freely in the south west and the JTF outfit is helping the military to fight boko haram. Why ban our local vigilantes? This decision cannot stand, and must be rescind. 
The leadership of MPA, OS, OIU, Ohafia Council of Chiefs and other stakeholders in Ohafia should convene an emergency meeting to discuss this latest development.
Meanwhile, the existing vigilantes in Ohafia must continue to operate. They shouldn't lower their guards. The Ezieogos in Ohafia shouldn't obey this unhealthy decision taken by the local government chairman. – Igwe
—-
To the current Executive chairman, it doesn't concern him if Ohafia is under siege or is being ran over by the marruding fulani herdsmen, because he and his family lives, school and do their businesses in Port Harcourt. He was presented / informed of the lack of electricity supply in Ohafia and he said he was not aware that there is not electricity in Ohafia, yes, how will he know when he only visits the Local government secretariat once a week and sometimes drives straight back to PH from the secretariat.
His Deputy and his family members also lives in Umuahia and rarely visits home.
All can say is that, there is fire on the mountain and nobody seems to be running. – Etigwe Uwa, SAN
Indeed, the executive chairman doesn't need to be told that he has taken a wrong.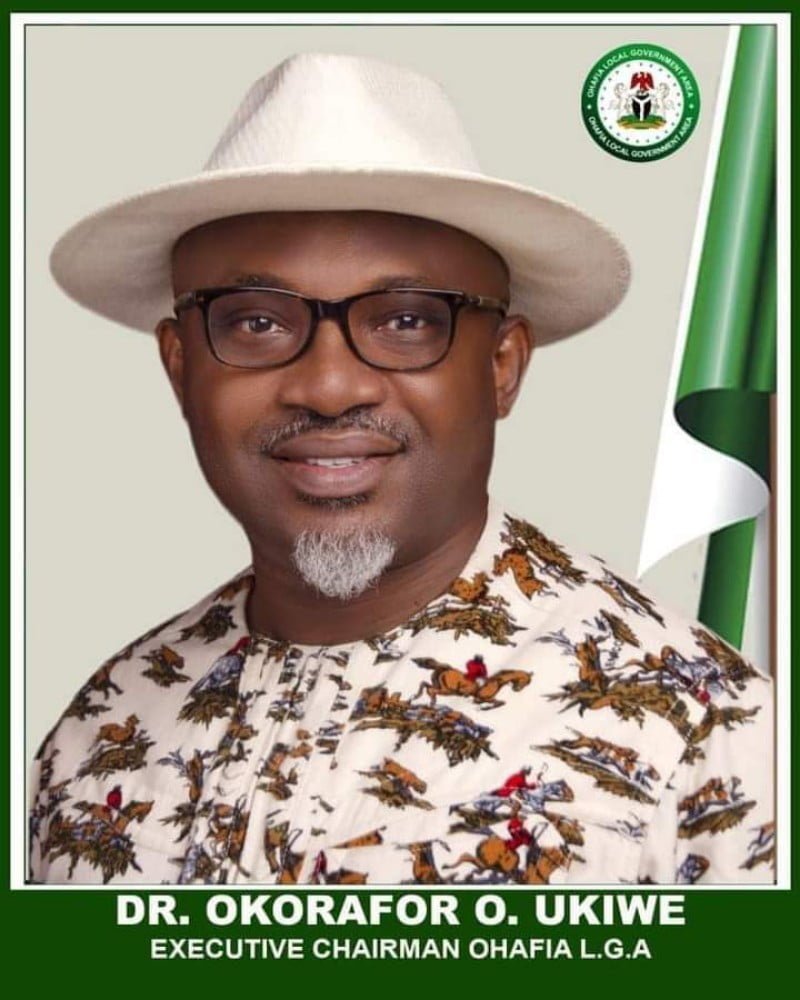 ---
Click "HERE" to join our WhatsApp group and receive News updates directly on your WhatsApp!
---
Copyright Warning!
This Content should NOT BE COPIED (word for word), either in whole or in part (TITLE) without due permission or acknowledgment of OHAFIATV News.
---
Disclaimer
Comments expressed here do not reflect the opinions of OHAFIATV News or any employee thereof. Also, every opinion expressed in any article is strictly that of the author(s), except where otherwise stated.
---