By Ndidi Okafor Ejieke
In recent times, a few weeks before the 2023 gubernatorial election in Abia State, the argument for "Equity", the foundation on which Abia State's political stability was built, has taken center stage again with the urgency necessary to maintain the peace and stability the state has enjoyed over the years, unlike her sister states.
Some notable elites from all areas of the state have argued that abiding by the Abia Charter of Equity is the only action that can salvage Abia and maintain her political stability. Prominent among the proponents of this justice and fairplay argument are eminent personalities like Chief Charles Ogbonna, Chief Onyema Ugochukwu, Senator Wabara (former Senate President), Senator Theodore Ahamefula Orji, and other eminent Abians who are insisting that Abia charter of equity favours Abia North producing the Governor after Governor OVI from the Ngwa section of Abia South.
The God of God's State has also spoken through the Abia Christian Community (ACC) that justice and equity should not be breached, hence the revelation to ACC and their decision to adopt Dr. Ukpai Iro Ukpai as their preferred candidate after a thorough spiritual scrutiny of all the candidates that presented themselves for the number one position. A proof that even God is not aloof in the insistence that justice and equity must not be sacrificed on the alter of the personal interest of a few who were the beneficiaries of the Abia Equity arrangement.
Surprisingly, many people have raised faulty arguments without putting certain parameters into consideration. After making this unassailable argument that power should rotate back to Abia North by May 2023, counter insinuations that Abia North people are gravitating towards Chief Mascot Uzor Kalu of APP as written by one Professor is deceitful and does not score the expected political point. It's a bait that lost it's target. Using the bait to deceive respected Ngwa electorates into gravitating towards Chief Enyinna Nwafor of YPP has already failed as Abians and Ndi Ngwa can see through the shenanigans. Abians cannot be deceived this time into making erroneous political calculations.
Let's, therefore, set the facts right.
The Equity, Justice, and Fairplay on which this argument is based, demands that even within Abia North Senatorial Zone, equity must be followed to the letter to make it complete. It is germane to state that the candidate that stands the best chance of getting the nod of Abia North people if it comes to Abia North people choosing who to go for them, is the New Nigeria People's Party (NNPP) Candidate, Dr. Ukpai Iro Ukpai.
For want of space, let's produce two or three reasons.
Chief Mascot Kalu is from Igbere in Bende LGA and being that Igbere produced the first Governor of Abia North extraction the last time Abia North produced the Governor, it is natural that the next slot for Abia North should not come from Igbere or Bende LGA due to reason of fairness that what is good for the geese is good for the gander. Bende LGA should in all fairness to other components of Abia North, allow other LGAs of Abia North to produce the next governor of Abia State.
Having said that, it is, therefore, worth mentioning that Ohafia Udumeze in
Ohafia LGA hasn't produced a governor or even a deputy Governor before in the life of Abia State or Imo State from which Abia State was created (either during the Military or Civilian era) and should be given a chance this time it has rotated back to Abia North. Dr. Ukpai Iro hails from Ohafia Udumeze, he has shown the strength of character and the political will to rescue Abia and has shown transformational leadership characteristics listening to him and his vision of a government tilted towards Technology and Digitalized Economy to drive progress and attain the Millennium Development Goal, creating jobs massively for our youths, and tackling insecurity amongst other benefits and low hanging fruits (substantive goals).
In order words, we must check the credentials of Dr. Ukpai Iro Ukpai and agree that he is eminently qualified and can match any candidate in cognate experience, academics, intellectualism, vision, etc.
There are many more reasons. To cap it all, even the God of equity and justice like I mentioned earlier, has spoken to those who can hear Him through prayers, not through any primordial or human sentiments, about who has the capacity and Godly heart to serve Abians from May 2023.
Abia Christian Community (ACC) recently delivered a press conference (after previously adopting Ukpai Iro Ukpai as their preferred candidate) advising Abians to vote for Dr. Ukpai Iro Ukpai of NNPP, insisting that God revealed him to them as the man after His heart to take Abia State back to the God of God's own State. Who then wants to question God?
Shall Abians obey God's voice or toe their path and perish by making wrong electoral decisions? God forbid that we make such a mistake again.
Less than 60 days to election day, I think that every well meaning Abian should distance himself or herself from any sentiment that will scuttle equitable rotation of the governor's seat to the letter. Equity and justice has given Abians political peace and even Jehovah God has given a nod in that direction.
Ndidi Okafor Ejieke is a political analyst, writes from Umuahia.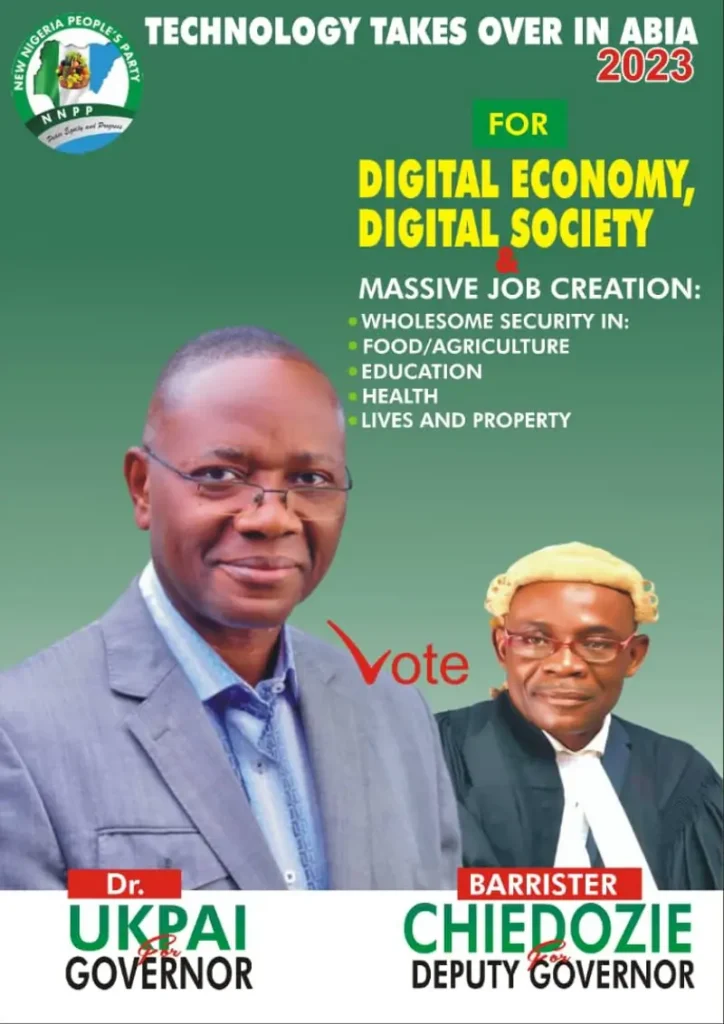 ---
Click "HERE" to join our WhatsApp group and receive News updates directly on your WhatsApp!
---
Copyright Warning!
This Content should NOT BE COPIED (word for word), either in whole or in part (TITLE) without due permission or acknowledgment of OHAFIATV News.
---
Disclaimer
Comments expressed here do not reflect the opinions of OHAFIATV News or any employee thereof. Also, every opinion expressed in any article is strictly that of the author(s), except where otherwise stated.
---