An entire family allegedly perished after being poisoned at Ndieke Umuatuegwu in Okija, Anambra state. Exactly who poisoned them remains unknown.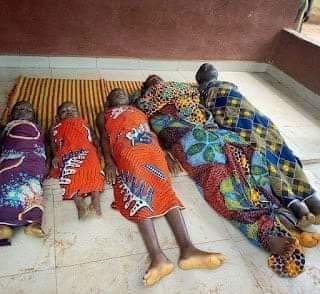 According to information from the communityy, the event began on Wednesday, August 9, when the woman finished cooking and served her husband dinner after returning from okada work.
As he was eating with his three children, the man collapsed and began vomiting blood. A few minutes later, one of his sons started doing the same. Soon after that, all of them started doing likewise. They were all taken to the hospital, where they have been dying one by one ever since.
The wife slipped on Friday because she couldn't bear to think of losing her family, and she likewise gave up this morning.
May their soul rest in peace.
---
Click "HERE" to join our WhatsApp group and receive News updates directly on your WhatsApp!
---
Copyright Warning!
This Content should NOT BE COPIED (word for word), either in whole or in part (TITLE) without due permission or acknowledgment of OHAFIATV News.
---
Disclaimer
Comments expressed here do not reflect the opinions of OHAFIATV News or any employee thereof. Also, every opinion expressed in any article is strictly that of the author(s), except where otherwise stated.
---