In the Ketu neighborhood of Lagos State, a guy named Yusuf was allegedly pushed by officers, and as a result, he was struck by a BRT vehicle and knocked unconscious by a mob.
The policeman and his colleagues were attempting to remove Yusuf from his vehicle when he was forced into the BRT lane, according to eyewitnesses at the scene who spoke to our reporter..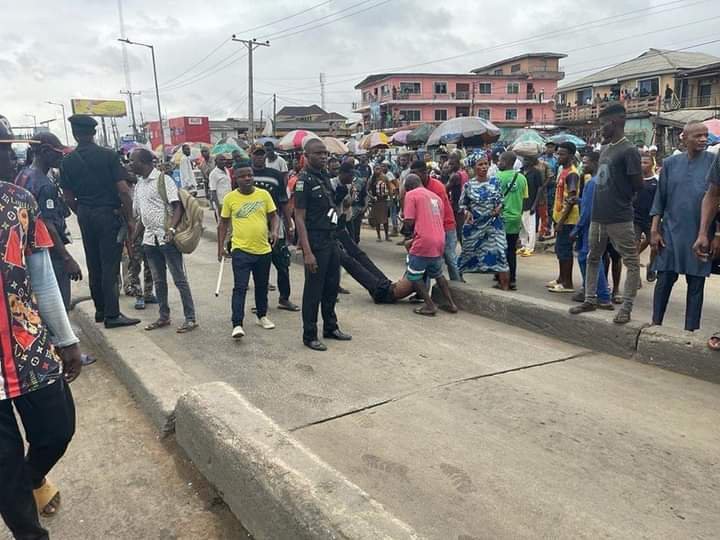 Yusuf was struck by one of the BRT buses operating in the lane leading into Lagos during this process, and he collapsed as a result of the collision.
An eyewitness who did not want her name used in conversation with our correspondent claimed that the police officers were to blame for Yusuf's trauma and that he suffered various degrees of injuries as a result of the incident. 
The policeman were the ones who attempted to remove the man from his car, and while they did so, they forced him onto the BRT lane, where he was struck by an approaching bus, according to the eyewitness. 
When the situation became chaotic, another eyewitness—whose name could not be confirmed—hurriedly talked with our correspondent. He claimed that when the policeman realized Yusuf had been crushed by the BRT, they sought to flee the scene, but an angry mob caught one of them. 
People pummeled the policeman until he passed out, he claimed. He is still alive since I could still see him breathing. Regarding what they did to the individual, people were outraged. 
Look at the man laying unconscious on the ground and the blood on the road; he has terrible wounds.
Picture: Deji Lambo
Extra information from PUNCH
---
Click "HERE" to join our WhatsApp group and receive News updates directly on your WhatsApp!
---
Copyright Warning!
This Content should NOT BE COPIED (word for word), either in whole or in part (TITLE) without due permission or acknowledgment of OHAFIATV News.
---
Disclaimer
Comments expressed here do not reflect the opinions of OHAFIATV News or any employee thereof. Also, every opinion expressed in any article is strictly that of the author(s), except where otherwise stated.
---