According to OHAFIATV News, the cost of gasoline has increased to around N617 per litre.
A trip to NNPC filling stations at Utako in Abuja and along the Kubwa highway proved that the price has been changed from N539 to N617 per litre.
Elder Chinedu Okoronkwo, National President of the Independent Petroleum Association of Nigeria (IPMAN), verified the development in an interview with OHAFIATV News on Tuesday.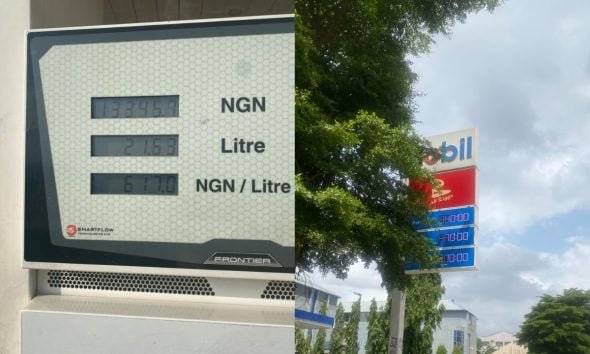 He asserts that market forces will continue to cause fuel prices to change.
"With the removal of fuel subsidies, that is the system we are in. Based on market forces and changes in the dollar on the foreign currency market, prices will continue to change. We are promoting a fuel alternative because of this", he said.
The development occurs while national fuel pump prices are allegedly being reviewed, increased.
Recall that the price of the product had soared from N190 per litre to over N500 per litre after the government of President Bola Ahmed Tinubu removed the gasoline subsidy in June.
Some drivers told OHAFIATV News that the present administration's policies are growing increasingly harsh on the populace.
On Tuesday, Uchenna Matthew claimed that the current government is driving Nigerians to hell.
"The reason for the entire commotion is that Mobil has not raised their price. I have no idea what type of suffering these folks are causing us. They claimed that while we are purchasing here at 540, NNPC has modified their price and is ready to do so again.
"We still have the grace to purchase at 540; the price will skyrocket at any second. This administration is taking us down a dark path. Even the wildlife in the forest is sensing it. The sooner this government is removed and replaced with the one that won the election, the better for us", he remarked.
Mohammed Sani, a cab driver, added that the increase is hurting Nigerians.
"NNPC's board has 617 written on it. They'll probably raise their price here at Mobil. The people are suffering; the situation is dire. The situation is quite difficult, and it is difficult for a poor man to go outside without thinking about food, he complained.
---
Click "HERE" to join our WhatsApp group and receive News updates directly on your WhatsApp!
---
Copyright Warning!
This Content should NOT BE COPIED (word for word), either in whole or in part (TITLE) without due permission or acknowledgment of OHAFIATV News.
---
Disclaimer
Comments expressed here do not reflect the opinions of OHAFIATV News or any employee thereof. Also, every opinion expressed in any article is strictly that of the author(s), except where otherwise stated.
---