Ndi Abia,
I bring you greetings in the name of our Lord Jesus Christ, in whom lies our salvation and redemption.
I am one of you in the Lord, by name, Bishop Emeka Michael Nwankpa. I am a servant in the vineyard of our father, Jesus Christ. I am contesting to become the Governor of Abia State on the platform of the Accord Party.
I am on a mission to restore the glory of God to Abia State. Our dear state, Abia, is in its present bad state because those who govern us do not have the fear of God in them. The Bible says in the book of Proverbs 29:2 that When the righteous are in authority, the people rejoice. That is why Abia State needs a true child of God as its Governor.
As children of God, we have a role to play in the upcoming governorship election which will hold on Saturday, March 11, 2023. We cannot keep quiet while our state continues to be backward in all indices of development.
We cannot keep quiet when we have no good roads, hospitals, and modern schools. We cannot sit down and do
nothing when teachers and doctors are not paid. We cannot keep quiet when our youths are unemployed. We cannot sit down and do nothing while our old citizens die because they are not paid their gratuities and pensions. We cannot allow the future of our children to continue to be mortgaged by a few corrupt individuals. We cannot
keep quiet anymore as our state is made a laughing stock among other states of the federation. As Christians, we must rise and take action by coming out on Saturday to elect a true child of God as the Governor of Abia State.
As a child of God, I want to be that instrument through which God will change the story of Abia State. It is time to give a true child of God the opportunity to govern Abia
State. That is why I am appealing to you to vote for me as Governor on Saturday, March 11, 2023, by voting for the number one party on the ballot paper with the "THUMB" as its logo. Together, we shall build a New Abia with the fear of God.
God bless you.
I am yours in the Lord,
Bishop Emeka Nwankpa, PhD
Accord Party Governorship Candidate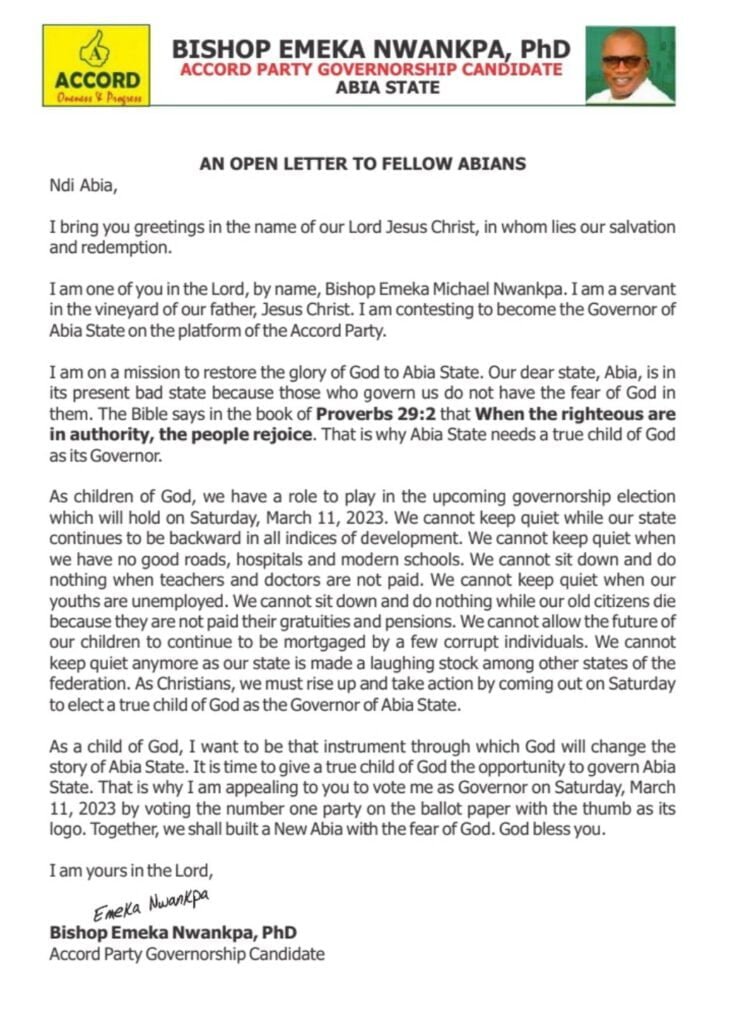 ---
Click "HERE" to join our WhatsApp group and receive News updates directly on your WhatsApp!
---
Copyright Warning!
This Content should NOT BE COPIED (word for word), either in whole or in part (TITLE) without due permission or acknowledgment of OHAFIATV News.
---
Disclaimer
Comments expressed here do not reflect the opinions of OHAFIATV News or any employee thereof. Also, every opinion expressed in any article is strictly that of the author(s), except where otherwise stated.
---