PICKING A GOOD PERSON TO SERVE AS OUR REPRESENTATIVE IS VITAL TO THE EFFICIENT RUNNING OF OUR CONSTITUENCY
When you are thinking about your Constituency plan, it is easy to focus on the big issues, like deciding who will get your assets, and neglect the smaller, but just as important, decisions. One of such decisions is choosing a competent person to act as Representative of your Constituency. Failing to do so could mean that your Constituency is managed poorly, suffers setbacks, ends up in ruins, or suffers similar undesirable outcomes.
A Representative should carry out many important duties such as:
• Identifying your Constituency's resources
• Protecting and managing your Constituency's assets
• Paying income taxes and Constituency taxes
• Ensuring the Constituency's resources are distributed accordingly
Since virtually all of the duties the Representative performs are vital to the efficient running of the Constituency, choosing a competent person is paramount. Unfortunately, many people do not always put much thought into the choice and default to a close family member. Although this may seem like a sound decision, experts say that qualities other than familial status are more important.
What to look for
Overall, experts recommend that you consider the abilities of candidates when choosing a Representative. Due to the important duties of the position, choosing someone who is trustworthy, mature and honest are obvious. However, in addition, experts recommend considering candidates that have a legal or financial background, as a significant amount of the position entails dealing with bills, accounts and legal documents.
If what the experts have said and recommended is true, why look further when you have Dr. Samuel Uba Okorie? A financial expert, and a Doctor of Philosophy? Come March election, ensure you choose rightly. Ensure you vote rightly, ensure you Vote Dr. Samuel Uba Okorie, for competent and efficient representation
---
Time is ticking. Promises abound. Emi lokan, Iwo lokan, awon lokan, is heard everywhere. People are planning to win the elections by all means. Some have even gone as far as telling me how the results will be. None of them have asked God how the results will be. They believe in their chariots and horses. But we believe in the name of the Lord, because it is Him who has brought us this far.
Join us. Tell us your bus stop let's come and pick you up.
Join us. Tell us your bus stop let's come and pick you up.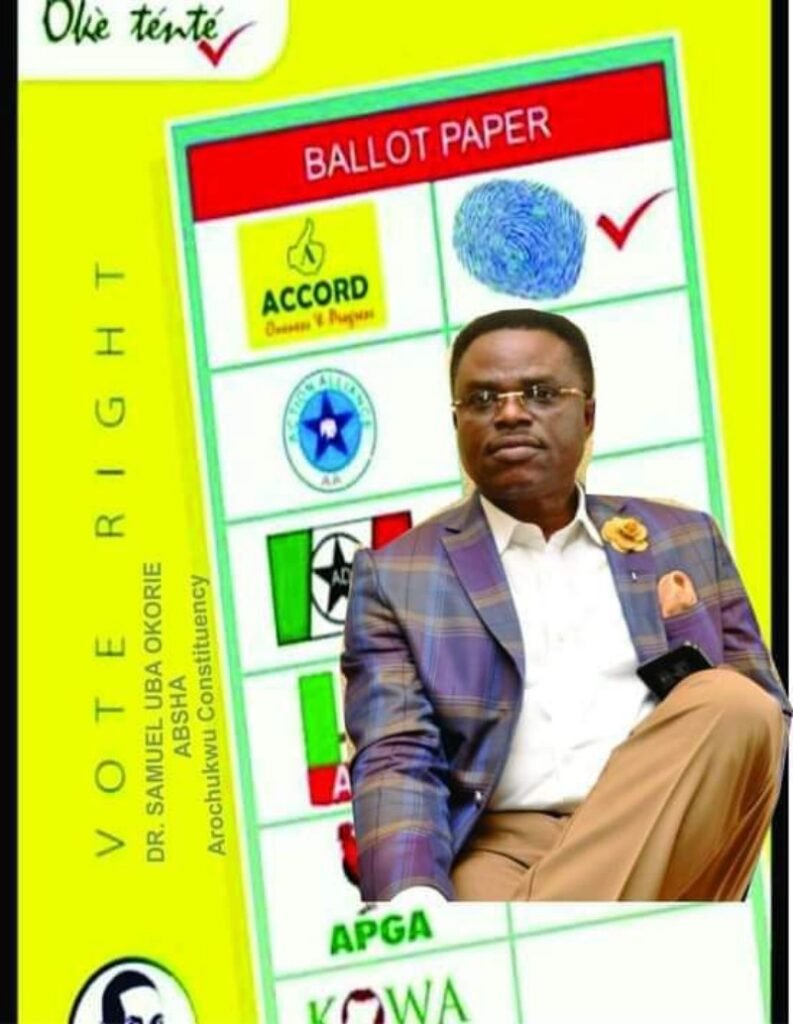 ---
Click "HERE" to join our WhatsApp group and receive News updates directly on your WhatsApp!
---
Copyright Warning!
This Content should NOT BE COPIED (word for word), either in whole or in part (TITLE) without due permission or acknowledgment of OHAFIATV News.
---
Disclaimer
Comments expressed here do not reflect the opinions of OHAFIATV News or any employee thereof. Also, every opinion expressed in any article is strictly that of the author(s), except where otherwise stated.
---