The axiom that blood is thicker than water was made manifest as two worthy sons of Umenneato Ngwa and philanthropists of note – Bishop Dr Emeka Nwankpa and Engr Enyinnaya Nwafor (Nana) – displayed uncommon brotherly love despite belonging to two opposing political camps.
Bishop Emeka Nwankpa, the Accord Party governorship candidate received in warm embrace, his quintessential brother and political opponent, Engr Enyinnaya Nwafor at the ongoing Intercessory Prayer Camp's 'Wind and Fire' prayer and fasting meeting organized by Rev Dr Chidi Okoroafor, the erstwhile General Superintendent of the Assemblies of God Church. This show of brotherly love, which was to the surprise of the thousands of worshippers, attracted a wide ovation from the onlookers.
Addressing the mammoth crowd of the Christian faithful at the interdenominational gathering, Bishop Dr Emeka Nwankpa, a revered cleric and philanthropist, said that when things get tough, the only solution is the pulpit. He advised Christians to rise up to the challenge and pray fervently to God for a governor who truly understands the problems of Abia State and is ready to solve them.
On why he is in the governorship race, he said that when the righteous is on the throne, the people rejoice, and that he took permission from God to put himself forward in service to the people. He further pointed out the areas Abia State suffers neglect and reiterated his unrelenting determination to address them.
While urging the Christendom to remain resolute in prayers for the will of God to be done in Abia State, Bishop Emeka Nwankpa supported the church project with a huge sum of money.
Many of the worshippers expressed their happiness for Bishop Emeka Nwankpa's presence and promised their support for his governorship ambition. The clergy prayed for the two governorship candidates, asking God to give the two governorship hopefuls divine grace, strength and direction.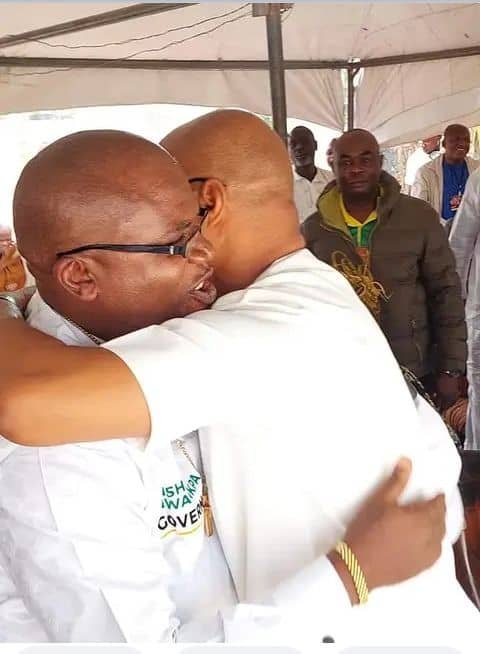 ---
Click "HERE" to join our WhatsApp group and receive News updates directly on your WhatsApp!
---
Copyright Warning!
This Content should NOT BE COPIED (word for word), either in whole or in part (TITLE) without due permission or acknowledgment of OHAFIATV News.
---
Disclaimer
Comments expressed here do not reflect the opinions of OHAFIATV News or any employee thereof. Also, every opinion expressed in any article is strictly that of the author(s), except where otherwise stated.
---