The New Nigeria People's Party, NNPP, Gubernatorial Candidate for Abia 2023 election has expressed his resolve to tackle "Japa Syndrome" in Abia state as a monster that will receive priority when he mounts the saddle of leadership in the state, saying that owing workers is a man's inhumanity to man that shouldn't happen in a sane clime, then owing them to a tune of 35 months is an act of torture of the citizens by the government that swore to protect them.
This touching resolve was borne out of pity for civil servants in the state who are owed many months of salaries, arrears, and other emoluments, a situation that was brought to the fore by the sorry case of Mr. Patrick Ufere, the Abia Poly Lecturer who was owed 35 months' salary and how he "Japa" to the United Kingdom, insisting that it was the highest show of irresponsibility of a government to her citizens that needed to be addressed once and for all.
OHAFIATV News recalls the case of one Mr. Patrick Ufere, a lecturer at Abia State polytechnic (Abia Poly) who was owed a 35-month salary and how he relocated to the United Kingdom (UK), with the help of chief Kelvin Jombo, founder of Kelvin Jombo Foundation/CEO of Sublime Group, and other good spirited Nigerians.
The lecturer had taken to Facebook to solicit for help as he could no longer fend for his family due to non payment of salary.
According to the narrative that prompted his JAPA, "Here is a man that his remunerations action for the job he has been doing stopped coming in for more than 30 months for no reason. A situation that kept people asking questions without any answer.
"He did everything possible to ensure his Kids won't drop out of school or go to bed hungry. A man doing the white-collar job as a top-class graduate was subjected to running transportation with his Golf Car every evening.
However, it came to a time it became very difficult for him. The devastating effect the situation had on this man was evident in the way he publicly asked for help on Facebook, apart from that, there's no other way anyone would have noticed the predicament he was passing through because he remained committed, steadfast, disciplined and to his best behaviour.
"The first day we met, I couldn't believe his oratory prowess, Yes! We are talking about a man that is so fantastic in the use of English, a man that would stand and speak for few minutes, and will make the whole sense in the world, a man that his wisdom can lift you up your feet.
"In a sane country, Government and their parastatals will do everything possible not to lose this man with such unmatchable bubba to any other country.
"The night he decided to relegate shame and ask for help on Facebook, MC Clockwise picked it up from there, and Hon. Kelvin Jombo of Abiriba showed up and finished the work. That help that night has been extended.
"Today, Ladies and Gentlemen, yours faithfully Mr. Patrick Ufere is on Study Leave in the United Kingdom. Not only him but with his wife", the FACEBOOK post concludes.
In reaction to this and in reiteration of his resolve to end this ugly trend of Brain Drain, Dr. Ukpai Iro Ukpai wrote on his social media handle.
"If the only reason I am running to govern Abia State is to save many Patrick Uferes and their families from torture by the government, it is worth the sacrifice. And more joy for me will be to stop such relocations (a.k.a japa) that impoverish Abia State and enrich foreign countries.
"Let the glory build quickly!!!
"When the glory comes,
"The wicked shall cease their troubling.
"The weary [Abians] shall be at rest.
"All of Abians of all ages
"Are gonna sit at Hieet and be blessed.
"We gonna sit at His feet and be blessed.
Adapted from Jessy Dixon's rendition of The Wicked shall cease their troubling'
Indeed, Abia needs a man with a human soul and human touch to understand that beyond politics and personal aggrandizement, the essence of leadership is to positively impact the lives of ordinary people because there lies your fulfillment as a leader.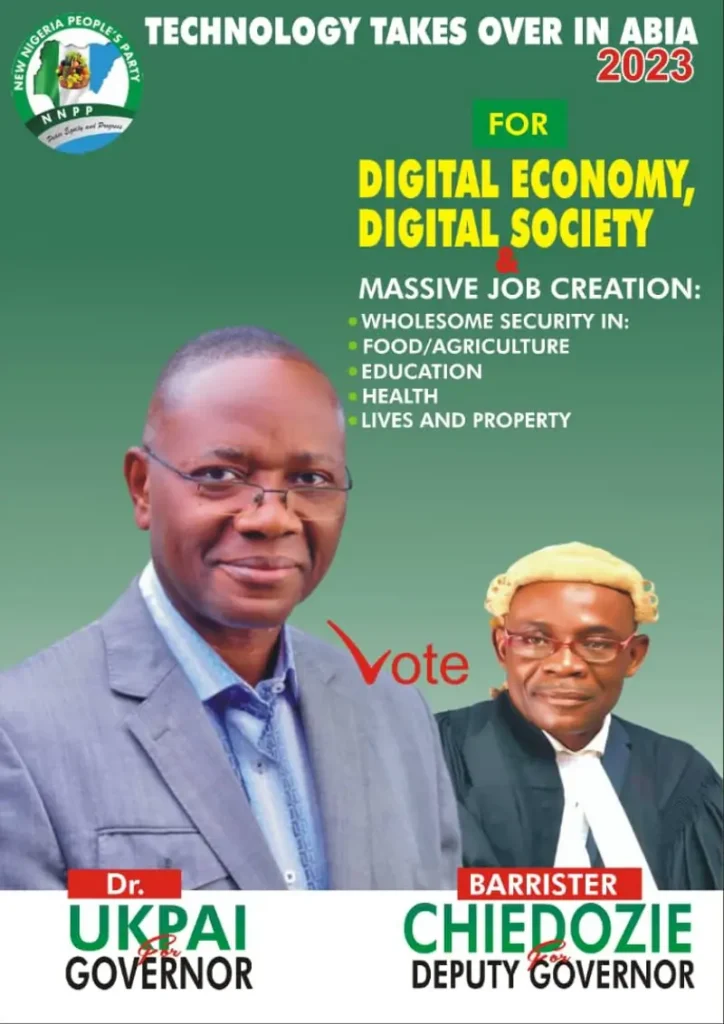 ---
Click "HERE" to join our WhatsApp group and receive News updates directly on your WhatsApp!
---
Copyright Warning!
This Content should NOT BE COPIED (word for word), either in whole or in part (TITLE) without due permission or acknowledgment of OHAFIATV News.
---
Disclaimer
Comments expressed here do not reflect the opinions of OHAFIATV News or any employee thereof. Also, every opinion expressed in any article is strictly that of the author(s), except where otherwise stated.
---